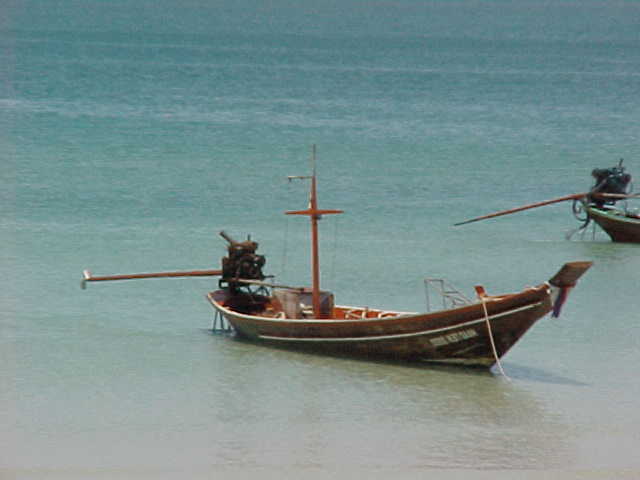 Friday morning we flew to Phucket Thailand. We flew on AirAsia. Now, many of you have never flown on the free seating airlines. Its like running the gauntlet. People push and shove and line up like 30 minutes early. Then they take you ticket and its like a sprint to the plane to ensure you get the seat you want. I guess this ensures people get to the plane in time but it sucks. Another thing that sucks about traveling in Asia is that you constantly are going through emmigration/immigration lines. It gets old and trip by trip my carryon gets lighter and lighter.
So, upon arriving in thailand you can see the ocean from the airport! We had an arranged ride to the boat and we were wisked away immediately. The scenery was so different from what I'm used to. There would be a brand new house painted vividly and almost leaning against it would be a shanty town made of scraps screating huts. Then there would be a ginormous temple all painted red and gold and very ornate. Dogs lay in the street and motorbikes zip in and out of traffic. There were even girls riding side saddle.
To continue, we were driven to the dock where we caught a speedboat to Phi Phi. I don't like boats because I am both scared and very prone to being sea-sick. My sister once told me that if you fall overboard, you will get ground up by the motor. Then the sharks will eat you. I think deep down inside I still believe this. Anyway, I held on for dear life and eventually ended up laying down trying not to puke. But we made it safe and sound to the beautiful Phi Phi islands. When we arrived they pulled up to this amphibian truck that scooped us out of the boat and drove us to land. Our bags were wisked away to our rooms and we were led by many beautiful thai people to the reception areas. They gave us delicious coconut drinks with orchids and flowers hanging out of them. Everywhere I looked were fancy flowers. They were lining the steps, sprinkled in the ashtrays, floating in decorative urns, and spilling out of the numerous fruit bowls. We were sent to our rooms to freshen up and our room was our own little thatch hut. It had ac and cable, a huge bed and yes, flowers in the toilet. Fantastic! Before dinner I promptly booked the spa session for Scott and I to have a massage the next day. For dinner I had heard that "the" place to go was a little village behind the bar. Well, we chose the wrong bar and ended up walking halfway across the island. We passed workers housing, a soccer game, chickens, toads, a mountain rise, a twisted ankle, and 2 snakes before we finally conceded that yes, its dark and maybe we should head back. So we gave up and hightailed it out of the jungle and this tiny path trailing through the wilderness. We ended up eating at the hotel restaurant and I got my first taste of thai food. I ordered a prawn something or other and asked for one spicy instead of 3. Well, it was still to hot for me to eat so I switched with scott after breaking into a full sweat. He had a rock lobster thingy. The house band played wonderful renditions of Fleetwood Mack and the Eagles. The breeze off the bay into the open air restaurant was fantastic and whatever they do for bug control works wonders! So that was our first day in Thailand.
Day 2 we got up early and had a delicious continental breakfast and then rented a longtail boat for 4 hours. Yes, after 30 minutes I was terrified and motion sick. I toughed it out and eventually spent the trip laying on the floorboards. We made it through choppy seas to the place where they filmed "The Beach" starring Leonardo DiCaprio. When you park your boat there a park ranger turns up and wants a sum of money that was paid by Scott's Dad. There were so many tourists and its kind of too crowded. But it is still beautiful and I was certainly glad to get out of the boat. So, the scenery out in the water is miles of sea with theses crazy rock formations jutting up at impossible heights. Its so foreign and beautiful, even if you're queasy and scared to death. After "The Beach" we went to a cove on the other side of the island and snorkled. I saw some HUGE angelfish, and some other cool brightly colored yellow and purple and blue fish. There were anemones and colorful coral piece everywhere as well. It was beautiful. Luckily, when Scott's mom fell into the boat the didn't hurt herself except for a bruise and a scrape. Once we were finished snorkling we headed back. We passed viking cave that has cave paintings and stuff but we didn't stop. The locals also harvest birds nest for birds nest soup. The birds make nests with spit and its a delicacy. I will eat some if I see it. I eventually puked a little but not grossly violently. I just heaved a little over the edge and laid back down. We next went to Ton Sai Bay which is where Scott and I would have ended up if we made it over the mountain. Its like a small bustling village city filled with dirty shops, expensive crappy food and hippy backpackers galore. I'm sure that it gets much worse in the on season. But it was still wonderfully dirty and gross and exciting and new. This is also the same place where we caught the ferry on Sunday. This is also the place where I broke all of the CDC rules and let a monkey sit on me. It was a gibbon and so impossibly cute in his little tank top and diaper. He gently held on to my head for the photo ops and I loved every minute of geting rabies and lice and some sort of flesh eating virus that begins in my liver. When we finished our lunch of amazing difficulty we headed back to the resort. I had to get back for the massage.
The massage was wonderful. They sent a cart to pick us up and brought us up onto the hillside. They gave us tea and then brough us to our room. Scott and I got our massages in the same room and they made us disrobe in front of them while making a halfassed attempt to pretend to sheild us with a silk scarf. Scott got a dude massage therapist and I got a chunky happy little lady. My lady immediately jumped on the table and crushed my spine. I didn't realize it at the time, it took a day or so. But she twisted and poked and prodded all of my muscles and then they put boiling rocks wrapped in towels all over us. It was wonderful unil I woke up crippled the next day. Everything they do at that resport makes it feel like their entire job is to worship you. Everyone smiles and it so sweet and they bow with the little pressed hands thing. It was truly a new kind of heaven. All of the rest of my food at the resort was fantastic and I had a variety of prawn dishes and that delicious coconut milk soup like at Surin. The soup is better in thailand.
So thats all I can write for now. Tomorrow I will tell you more about the village, the ferry, the next hotel and today. Its not as exciting as the stuff I have already told you but its still gotta wait. I'm exhausted, its 10:20pm and I've been up since 5:30 or so.
Good night!